Providing A Family
In Need With A Shoulder To Lean On From Darkness to Day - It Depends On Us!
A charity campaign by the Hamagbit
Dear Brothers!
Let us provide a shoulder to lean on for a family in need. 
There is a family from Anash that has fallen into extreme financial distress and desperately needs our help! They had agreed to serve as guarantors to friends of theirs who eventually accumulated enormous debts from powerful, dangerous people and are now at risk of eviction from their home.
In the past few days, with the help of big community activists, they succeeded in reaching a compromise with the creditors and were able to substantially reduce the amount of money that they will have to pay. On condition that the sum be paid, in its entirety, by 13 Nissan (Friday, March 26, 2021).
Chassidim are one family. We care for each other, celebrate with each other, and lift each other up in our times of need. 
Let us join together to rescue this family from their challenging situation and help them get back on their feet. 
Let us heed the call of Rabbi Yeruslavski Shlita and show up to participate in this tremendous Mitzvah.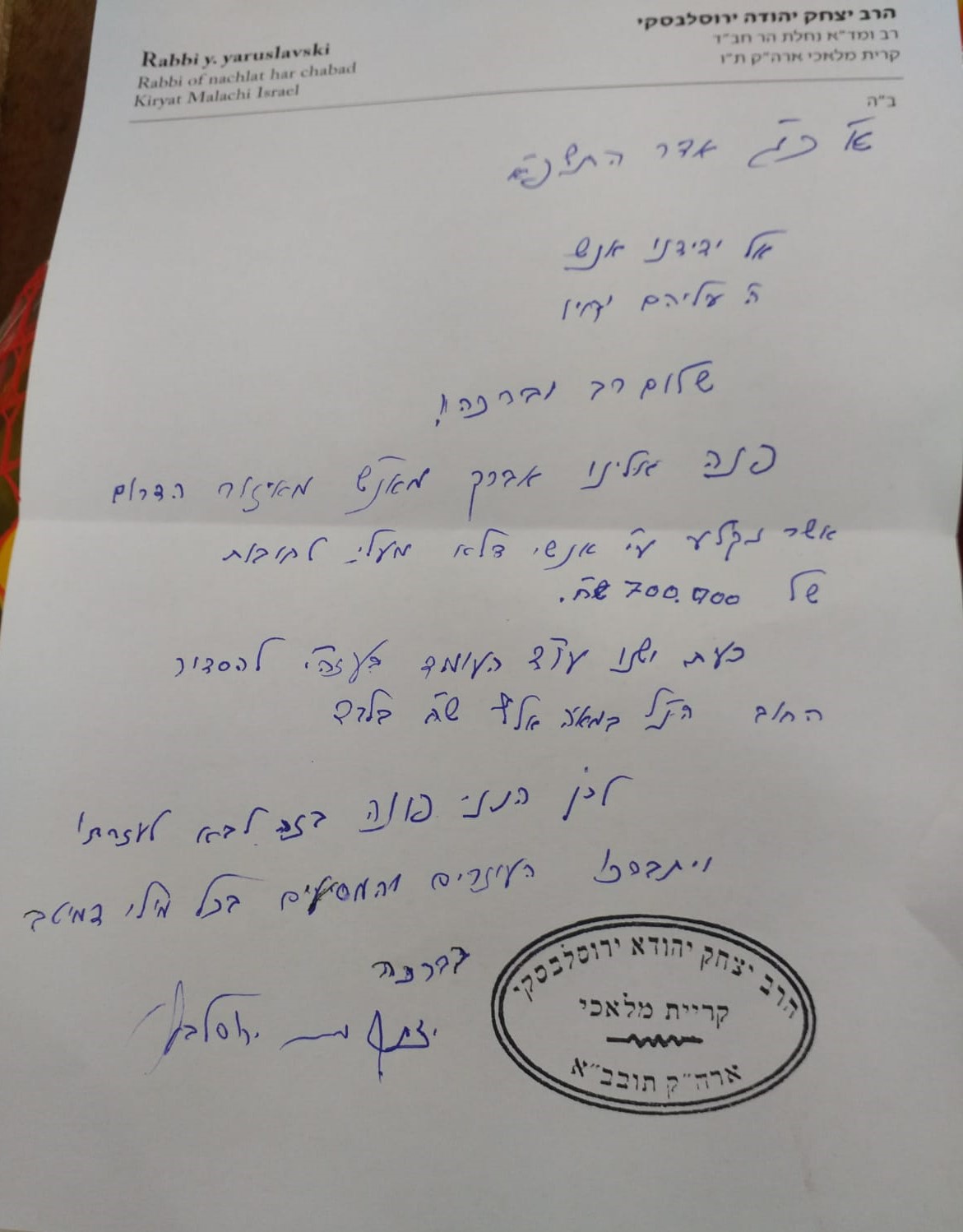 Anonymous
Donation Of 29 $
Donation Of 21 $
לזכות שרה חדוה בת דבורה ושלמה בן בת שבע דינה וכל המשפחה
Anonymous
Donation Of 35 $
Donation Of 21 $
תודה שנתתם לנו לעזור לכם, שבזות זה כל הבעיות תתפטרו בעז"ה
Anonymous
Donation Of 21 $
Anonymous
Donation Of 21 $
Anonymous
Donation Of 52 $
לרפואתי
Anonymous
Donation Of 29 $
Donation Of 35 $
לשידוכים טובים
Anonymous
Donation Of 35 $
Anonymous
Donation Of 52 $
לזכות חנה בת חיה מושקא
Donation Of 29 $
לזכות עם ישראל
Donation Of 15 $
לזכות רבקה בת רות לזחו״ק עוד השנה
Anonymous
Donation Of 21 $
להצלחה רבה בכל הענינים ובענין הבניה אצל אמא וכל ההכנות לחג הפסח מיתוך גדלות ועשירות מופלגה לנחת אמיתי דקדושה ולזיווג הגון לישראל אברהם בן חנה בניקל
Anonymous
Donation Of 52 $
Anonymous
Donation Of 10 $
Anonymous
Donation Of 21 $
Anonymous
Donation Of 29 $
Anonymous
Donation Of 52 $
Anonymous
Donation Of 21 $
Anonymous
Donation Of 21 $
Donation Of 21 $
לרפואת הבחורים מהטיול
Anonymous
Donation Of 8 $
לזכות ברטה בטי חיה בת אורה קלרה ויצחק בן רונית וכל ילדיהם - שהם , חנה , שמעון, דניאל ניסים - להתקשרות אמת לכ'ק אד'ש ולמילוי השליחות כדבעי בבקעת הירדן. פרנסה בהרחבה בגו'ר עשירות כפשוטה, שלום בית
Anonymous
Donation Of 21 $
לגאולה שלימה ורפואת כל החולים ובשורות טובות לצפורה בת שרה וזרעה חיה וקיימא לפרלה בת זהבה גולדא ונחמה דינה בת ורדה
Anonymous
Donation Of 35 $
Anonymous
Donation Of 5 $
Anonymous
Donation Of 146 $
Anonymous
Donation Of 5 $
Donation Of 21 $
לזכות חיים ישראל יצחק הלוי בן שרה וצלחה בת רחל לאיוש"ט
Anonymous
Donation Of 73 $
להתגלות הרבי מלך המשיח
Donation Of 6 $
לרפואת דרור בן תקווה
Donation Of 10 $
לרפואתה בילדה שושנה רייזל בת דבורה לאה
Anonymous
Donation Of 52 $
Anonymous
Donation Of 52 $
Donation Of 21 $
לרפו"ש אלישבע סופי בת מלכה
Anonymous
Donation Of 5 $
Anonymous
Donation Of 52 $
רפואה שלמה
Donation Of 6 $
רפו״ש פישל בן סירקה ולעילוי נשמת אמי חיוסיה בת מניה
Anonymous
Donation Of 35 $
Donation Of 35 $
ברכה והצלחה
Anonymous
Donation Of 6 $
Anonymous
Donation Of 21 $
Anonymous
Donation Of 15 $
Donation Of 52 $
לעילוי נשמה-גניה בת אהרון
Donation Of 73 $
להתגלות הרבי מלך המשיח
Anonymous
Donation Of 35 $
Anonymous
Donation Of 52 $
Anonymous
Donation Of 21 $
Donation Of 21 $
לעילוי נשמת הורי היקרים
Anonymous
Donation Of 10 $
Anonymous
Donation Of 29 $
Share this campaign: